Brian Claypool is a nationally regarded attorney who frequently appears on FOX, CNN International, CNN and HLN as well as other national television and radio networks as a legal commentator. Mr. Claypool has successfully litigated numerous workplace sexual harassment and sexual abuse cases against both the alleged perpetrator and the company based on a theory that officers and directors knew or should have known that the perpetrator posed a risk of harm to others and failed to properly supervise he/she. Most recently, he represented former America's Next Top Model winner Naima Mora in a workplace sexual harassment/assault case against her direct supervisor and obtained a favorable out of court settlement. Mr. Claypool also secured a significant out of court settlement in a sexual harassment case against Prada on behalf of a male client. Mr. Claypool also assists clients during the criminal investigative phase after the victim lodges a police report.
His law firm has also successfully sued the largest school district in the country for failing to safeguard students from child predators. Mr. Claypool along with two other law firms spearheaded a 4-year battle with the largest school district in the US ultimately achieving a collective recovery of $139 million LAUSD was ordered to pay $139.2 million in the Miramonte sex-abuse settlement. In so doing, Brian helped the school district create new reporting guidelines for parents when a teacher was under investigation for suspected sexual abuse. More recently, Mr. Claypool is suing the Yucaipa/Calimesa Unified School District for the wrongful death of Rosalie Avila. Rosie hung herself due to relentless bullying while the school board failed to protect her.
As a nationally regarded trial attorney, Brian has worked on several very high profile cases and has conducted over 100 jury trials both in state and federal Courts–most recently conducting two high profile criminal murder for hire jury trials in West Palm Beach, Florida.
If you are a victim of abuse at the hands of USA Swimming, and would like to explore the possibility of legal recourse please contact us by giving us a call 626-788-9340 or send us a message by filling out the form on this page.
Brian Claypool Holds News Conference Re: Miramonte FBI Involvement
Attorney Brian Claypool holding a press conference outside the offices of The Claypool Law firm. Announcing the FBI letter of a possible federal investigation of the LAUSD as it relates to the Miramonte Elementary School sex scandal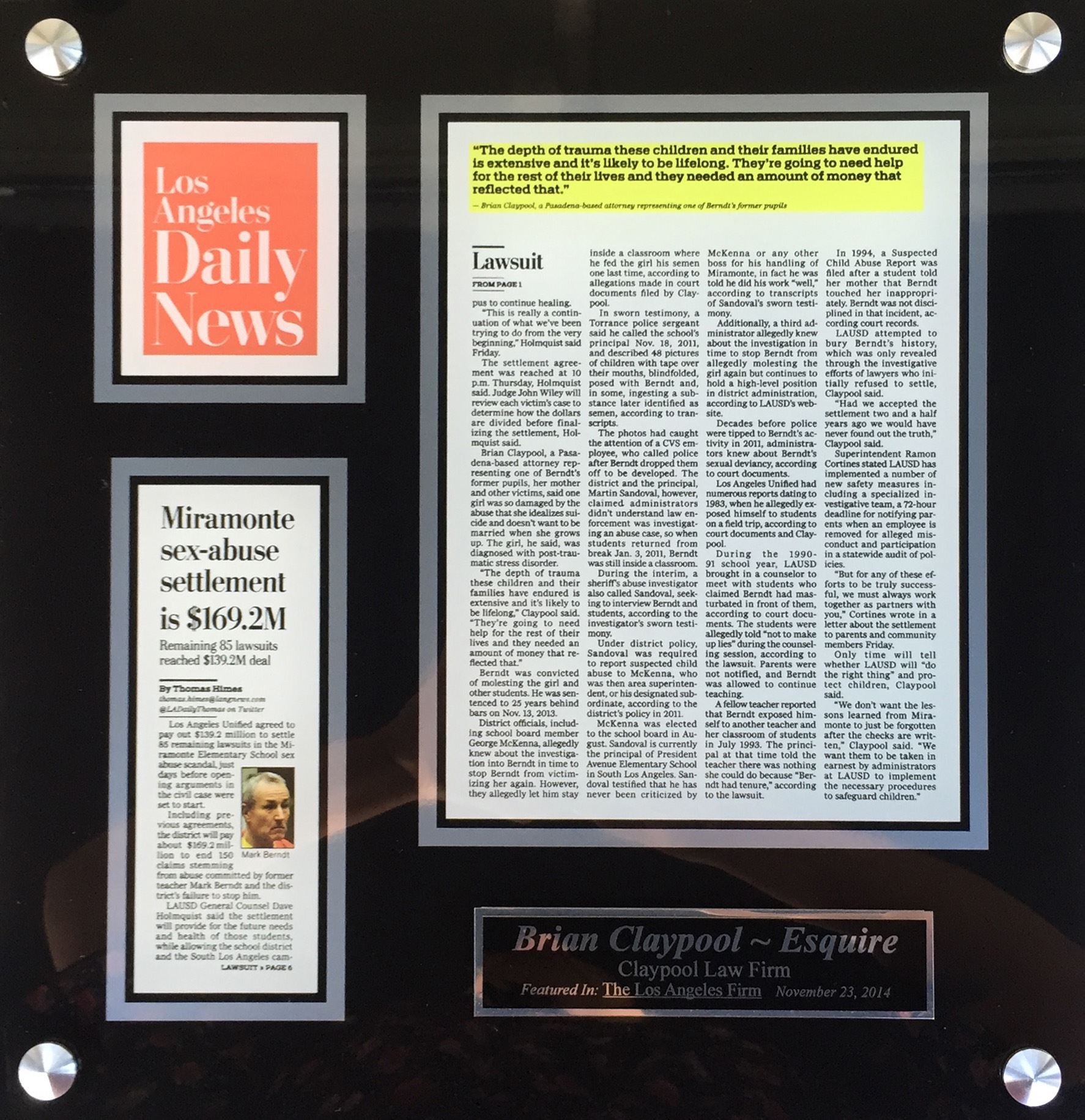 USA Swimming Investigation
100s of USA swimmers were sexually abused for decades and the people in charge knew and ignored it, investigation finds. Read more here: www.ocregister.com/2018/02/16/investigation-usa-swimming-ignored-sexual-abuse-for-decades/
Free Consultation
If you were a victim of abuse at the hands of USA Swimming, you may have a civil case.